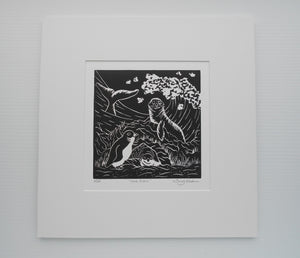 Linocut Print
Printed 2016
Edition of 20 - print number 2.
An image size of approximately 15 cm x 15 cm.
Printed in Lamp Black Akua intaglio ink on Canson paper.
An image of two penguin, a seal on the rocks and in the wave, the tail of a whale can be seen.
Mounted with an approximate total size of 30.5 cm length x 31 cm Width.
Signed on front.
Mounted ready to frame.
Our artists and makers have their wonderful creations at various locations where you can call in and visit while on King Island.
To see more of Sandy's creative items visit:
'Reekara Community Complex's Top Shop', North Rd, Reekara, King Island.
'King Island Arts & Cultural Centre', Edward St, Currie, King Island.
'King Island Museum', Lighthouse St, Currie, King Island.
As laid back and relaxed as King Island is, unexpected situations do pop up which can make the easiest day turn hectic quickly for locals and visitors.  It could be a good idea to call a couple of days beforehand to be sure they will be open on the day and/or time you plan to visit.  They are also happy to be open by appointment if needed.